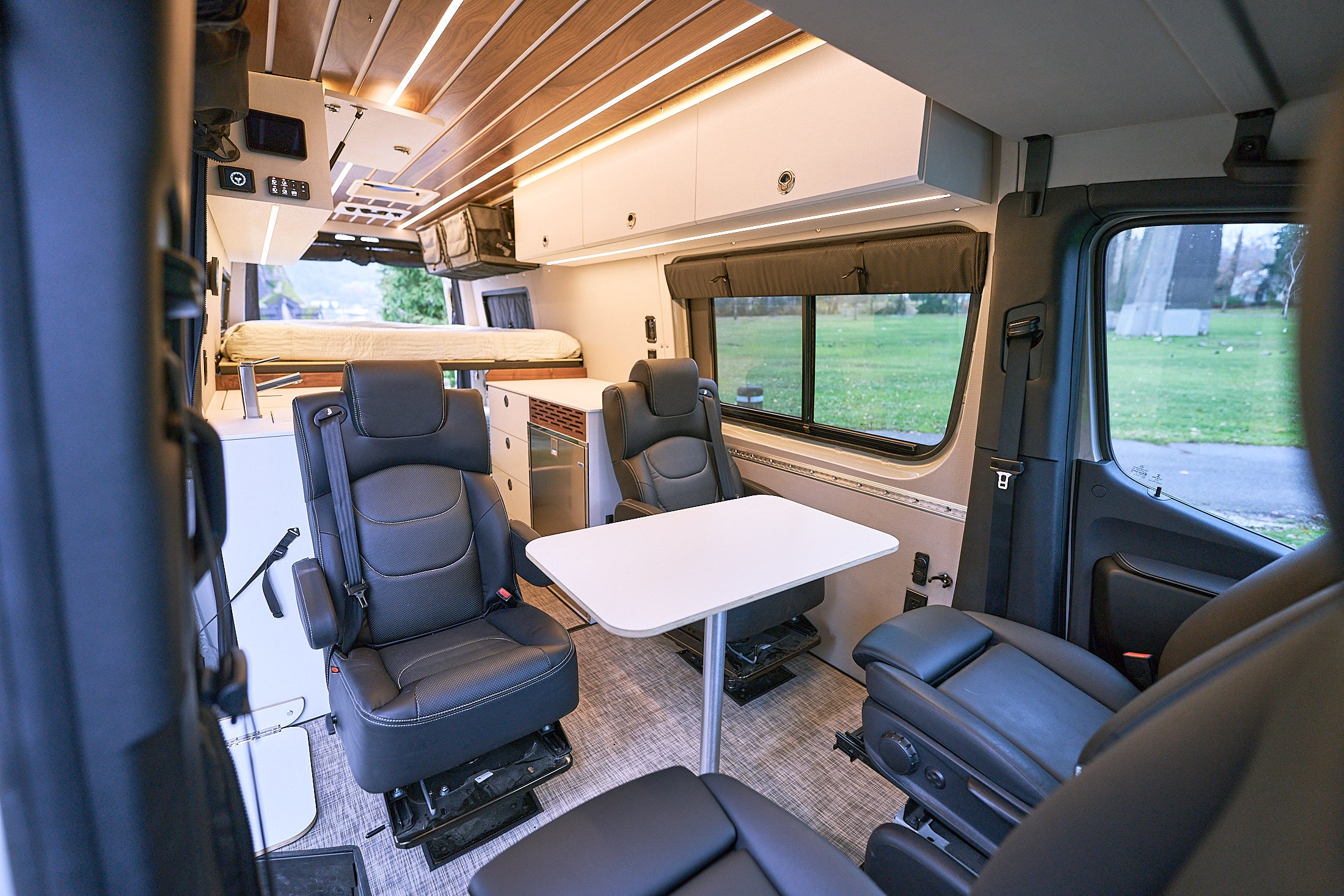 SEAT 2-4 / SLEEP 2-4
RAINIER
144" Sprinter / 148" Transit
Mount Rainier is on the list of volcanos to erupt in the next 10 years, and this layout is so popular we are seeing it blow up as well!
The Rainier build is by far our most popular layout, allowing two people to comfortably weekend or full-time in a 144 sprinter or 148 transit. It's often mistaken for a 170 wheelbase in photos because of its clean, spacious layout and standard Murphy bed. Flarespace Flares save 20 inches of interior space by sleeping sideways, which made it so we could fit a full height closet, comfortable bench, toilet, hideaway shower and full galley; all in 62 square feet.
View This Layout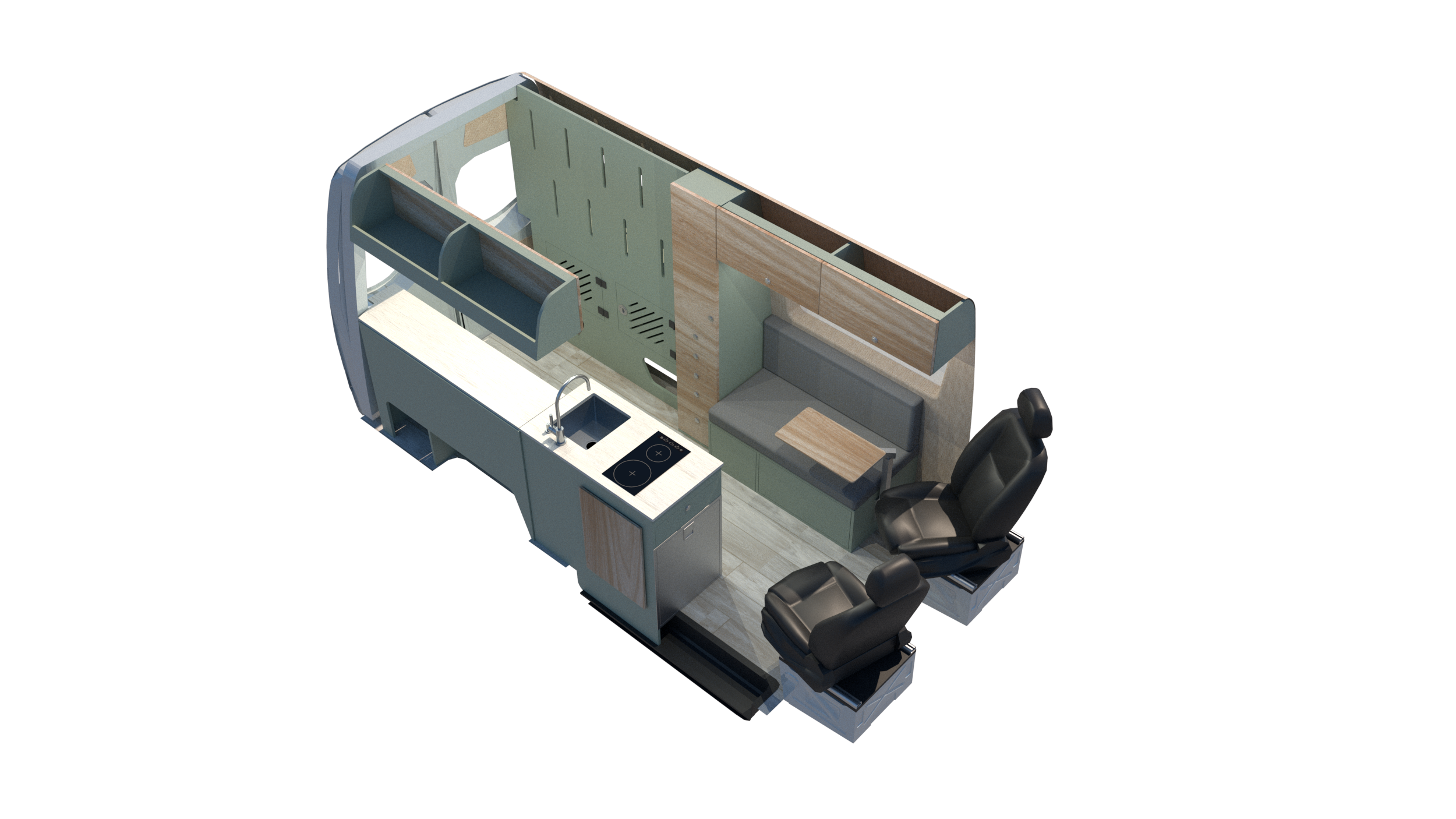 SEAT 4 / SLEEP 4
THIELSEN
144" Sprinter /148" Transit
Fun Fact: Mount Thielsen is known for its matterhorn, that attracts ligtning strikes and creates an unusual mineral called Fulgurite.
The Thielsen is a seat four sleep four 144 or 148 transit that is great for families who want to have a compact van to travel around in. The layout allows for two captains chairs that, together with the front seats, turn into a four person dinette. The fridge and sink oppose each other in the back for a compact but functional kitchen area. The beds in the back are bunked, utilizing Flarespace on the upper bed to have a nearly queen size upper bed and almost full size lower bed for the kids.
Need more space? This layout also works as a pop-top! Utilizing a murphy bed below and a SCA pop-top, this frees up the whole garage and allows for up to 4 bikes to be stored inside.
View This Layout
SEAT 2 / SLEEP 2
SHASTA
170" Sprinter
The Shasta layout is named after the second highest mountain in the Cascade Range. A less known fact, is that Shasta has the most volume of any of the Cascades, which gives build its namesake.
The Shasta build is the most popular for solo travelers or couples who want to go the extra mile(s) and leave no sight unseen.
The Shasta offers all the same amenities as the Rainier, but is stretched out four feet on the 170" chassis, allowing you to go further and stay longer!
View this Layout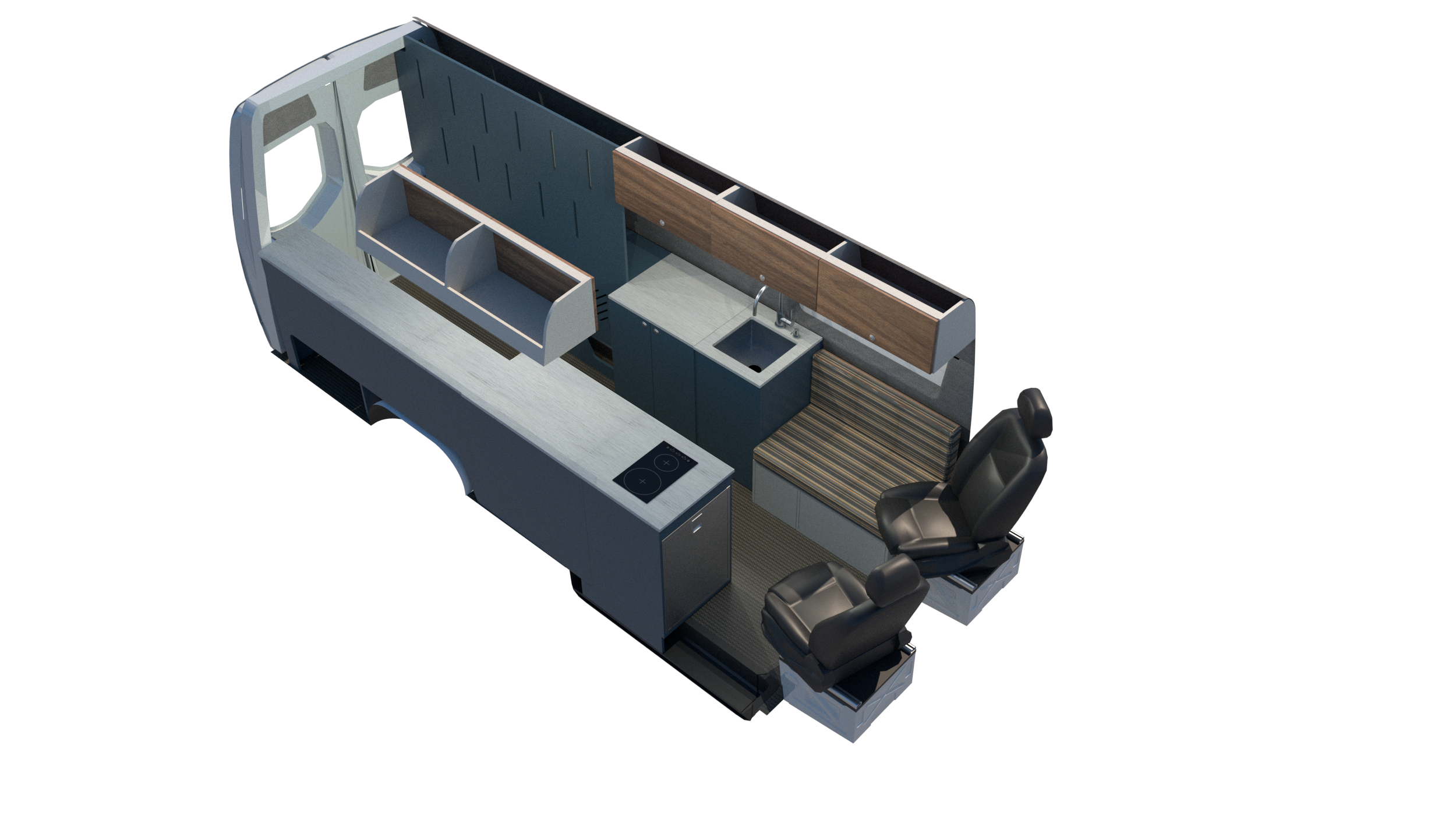 SEAT 4 / SLEEP 4
MAZAMA
170" Sprinter
The Mazama Layout is named after the mountain most know as Crater Lake in the cascade range. This layout sleeps four people, two in each of the bunk beds in the back. It seats four legally in DOT approved, JMG seats with 3pt harnesses so you can get to your destination safely and in comfort!
The Mazama is our most modular layout; with a removable upper bunk, so you can seat 10 in your van; removable lower stringer so you can transport your bikes inside; removable seats if you want a little extra mobility when the kids are gone; and a hidden toilet compartment that can be used for storage if you don't need the loo.
View This Layout